As a Raychem value-added distributor and solutions provider for nearly 60 years, Relcon is full of inside knowledge and experience. Complete project detail disclosure enables Relcon to optimize and design the best solution.
Relcon builds long term relationships with customers by providing project integrity from takeoff to field service support after installation.
Safety, reliability, and efficiency continue to be Relcon's core focus, which is built into every design.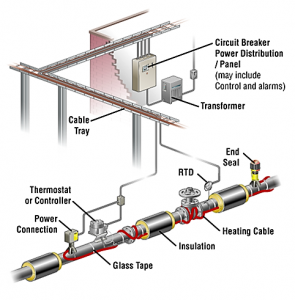 Heat Tracing Applications
Pipeline freeze protection
Pipeline Temperature maintenance
Tank heating
Instrumentation winterization enclosures and tubing bundles
Snow-melting and de-icing of pavement surfaces, roofs, and gutters
Domestic and process hot water heating
Facility floor warming systems for comfort, radiant, and frost heave prevention
Leak detection of liquids such as water, chemicals, and fuel
The Value We Bring To Your Business
Relcon delivers value for any of the above applications on numerous levels.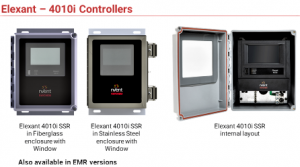 We design, develop and implement high-quality Raychem heat tracing systems tailored to your needs
Design optimization reduces total install and operating costs
Our designs are reliable with little to no maintenance required over a long product lifespan (Raychem products have an industry-leading 20-40 year expected lifespan)
You can feel confident about your investment with an optional extended 10-year warranty
We enhance system integrity with the deliverables discussed below
Design, Project Deliverables, and Field Service Details
Heat Trace Isometric Piping Drawings
CAD – 2D and 3D drawing capability
Control and Monitoring
Communication and connectivity abilities for Building Management Systems and Distributed Control Systems
Heat Trace Panel / Control Schedules
Provide standard/custom designed panels that comply with NEC guidelines
Optimize installation and maximize project integrity
Project O&M Manuals + Data Sheets
Startup, Training, Commissioning, Troubleshooting
Technical field services
Advanced control panel start-up and training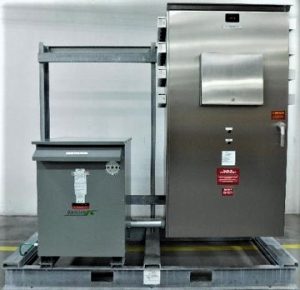 Heat Tracing Tanks
We provide a wide selection of heat tracing solutions for tanks and vessels. Typical applications for electrical heat tracing of tanks and vessels include:
Freeze protection of low and medium viscosity fluids (water, ammonia)
Temperature maintenance for medium viscosity fluids (oils , resins )
Crystallization prevention (caustic soda)
Condensation prevention (fly ash in conical bases of silos)
We also offer Frost Heave Protection
Commercial – Freezers
Industrial – Slabs under tanks (ex. Industrial gases and fertilizer plants)