Our certified team is now even more prepared to help you.
Relcon is pleased to announce that we have been awarded Platinum-level status as a Channel Partner for Honeywell HPS.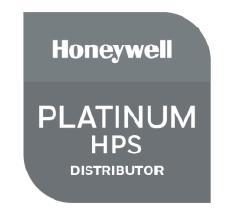 Only 10% of Honeywell Channel Partners globally achieve Platinum Distributor status in a given year based on delivering top performance and broad capabilities of our Honeywell gas product portfolio.
We proudly supply our customers many of the exciting technologies from Honeywell HPS, including brands such as Mercury Instruments, Elster / American Meter Company, and Elster / Instromet. This certification designates Relcon as experts on the implementation of technologies across all of these product lines, and we are ready to rise to the challenge of being your go-to resource for gas measurement, gas quality, and pressure control needs.
Why Honeywell Process Solutions?

In addition to being one of the most trusted names in industrial solutions, we admire Honeywell Process Solutions for their commitment to safe, innovative technology, as well as their expansive collection of training and resources surrounding the technologies they distribute. Relcon is honored to be a conduit for sharing that information with you, and we can give you insight on how HPS products can assist & improve your gas system operations.  
Honeywell Process Solutions in Action
"With the help of Relcon's experienced staff and value-added service we were able to deploy the field equipment necessary to monitor the status of our natural gas system.  The project had a very tight window to deploy. Relcon's ability to preconfigure and functionally test all the equipment before shipping helped us ensure a fast ramp up and smooth installation by our field techs." 
-Midwest Utility Customer   
Improve your operational efficiency with Relcon.
For over 55 years, we have developed relationships with our valued customers that have grown us into a world-class, value-added solutions provider. Clients across several industries see meaningful and impactful improvement when working with Relcon. This includes clients working in industrial, commercial, and natural gas settings. Reach out to see why our clients consider Relcon a vital part of their operations.