How, When, and Where You Need It
As a result of the 2020 pandemic, we see customers investing more in solutions for their facility's hot water needs ensuring safe, reliable, and efficient systems that meet a variety of sanitary and process requirements. Relcon is aware of the consumption of limited resources such as water and energy. We are committed to working with our vendors to provide energy efficient equipment and alternative methods to conserve our valuable resources.
Our customers' requests cover a vast range of applications in the commercial, industrial, and residential markets. Relcon in partnership with Raychem HWAT, Hubbell Water Heaters, and OGI Quickwater are your partners for hot water solutions.
Raychem HWAT System
The Raychem HWAT system utilizes self-regulating heat trace cable installed directly to domestic hot water supply piping, to maintain the system temperature as provided by your water heater. By using advanced electronic controls and easy to install connection kits, an HWAT system can reduce time to tap hot water and simplify complex recirculating systems.
Self-Regulating Heat Trace
HWAT is a self-regulating heat trace cable that adjusts its heat output accordingly to maintain the desired constant temperature
Can be cut to length in the field
Designed to be used with ACS-30 or HWAT ECO advanced controllers
ACS-30 and HWAT-ECO Controller
Advanced controls calculate the amount of "on" time required to maintain the desired temperature based on Raychem's advanced algorithm
Preconfigured "usage profiles" allow clients to tune the system to meet their water usage needs throughout the day/weeks/months providing energy cost savings
Network interface capabilities enable IOT connectivity directly to the users BMS
Efficient Design
Eliminates the need for re-circulating systems and excess piping/pumps/valves
Constant water temperature throughout entire domestic hot water supply piping
Easy to install Rayclic connection kits. Tightening two screws is all it takes
Hybrid system of re-circulated header and heat tracing branch lines can provide a solution that is simple yet effective
Guaranteed water efficiency by heat tracing to the tap for instant hot water
Pathogen Control Measure (ASHRAE Guideline 12)
Legionella species remain dormant below 70°F and can grow and multiply up to 120°F
When a building is unoccupied, HWAT system can be utilized to maintain hot-water temperatures at or above 120°F to mitigate the chances of pathogen growth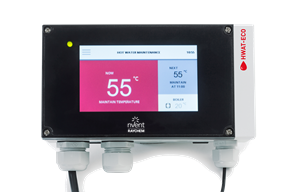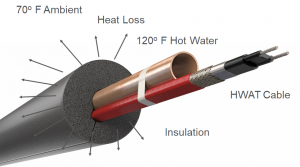 Hubbell
water heaters
Hubbell Electric Heater Company offers world-class engineered solutions for Electric, Gas & Steam water heaters. With an emphasis on quality and total cost of ownership, their products are backed by an industry leading warranty. Whether the application calls for traditional storage or tankless on demand, we can provide a solution specific to your application. Hubbell makes hot water easy for design engineers through solutions such as industrial water / process fluid heating or commercial water heaters.
Types of heaters Hubbell manufactures
Packaged cement lined heaters (*see Hydrastone)
Electric Heaters
Gas Heaters
Steam or Boiler Water Heaters
Tankless Heaters
Emergency Showers (Tepid /Safety Heaters)
Storage ASME and non ASME Tanks
Standalone heaters or fully packaged turnkey/skid solutions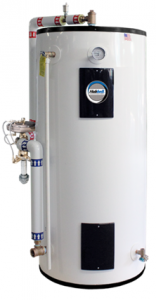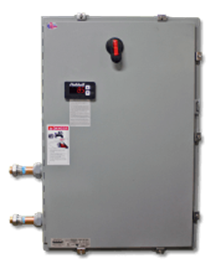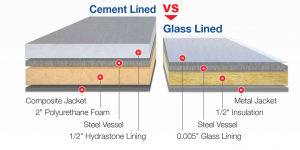 Key Benefit-Hydrastone Lining
Hydrastone cement lining offers complete coverage of the tank
Hydrastone cement lining offers complete coverage of the tank

Reduces ownership and operating expenses

Longer lifespan
Maintenance free benefits
Eliminating inspection and replacement costs to maintain anode in glass lined tanks
Anode not required for hydrastone cement lined tanks

If you have a demanding industrial application such as:

Pharmaceutical
Petro-chemical
Water treatment

Or any commercial applications:

Boiler room
Kitchens
Shower room
We can provide an engineered solution for you or your clients that, "Makes Hot Water Easy!".
OGI

~

Quik

Water
Manufactured by OGI Process Equipment, QuikWater systems meet the world's most stringent air quality regulations and are the first-ever direct contact water heating systems to be certified by the NSF/ANSI Standard 3A and 5A for food processing applications.
"So smart it's simple." QuikWater's non-pressured designs and direct contact heating systems are smart, efficient, and SAFE! By using a QuikWater system, clients experience cost savings thru eliminating the need for permitting and staffing boiler engineers.
Practical Innovation
Clean-burn combustion technology is a dry-fire process that produces pure hot water on demand with high energy efficiency
Patented combustion chamber provides an isolated dry atmosphere for burner flames, eliminating safety risks, and producing high fuel efficiency without water contamination
Primary applications
Food/poultry processing
Commercial laundries
Dairies
Concrete production
Glass and textiles
Car washing
Beverage industries
Government, aviation, and schools

QuikWater Simulator
A simulator that allows us to study and review Quikwater behaviors with our stakeholders without requiring the presence of a physical unit.
Enables us to educate our customers in a low-stakes environment.
Schedule your simulation today, call 765-825-2194.
Hot, Clean, and Green!
Hot

Hot water on demand

Quickly heats water up to 180°F

Self-contained, customized systems for your specific operation

Clean

Clean burn technology

Powered by natural gas or propane

Flash pasteurization to kill pathogens

Certified by NSF/ANSI for food processing applications

Green

Up to 40% energy savings

Environmentally safe

Lowers carbon footprint

Meets the most stringent air quality regulations
The Relcon team is proud to work with these industry leaders to offer our clients a portfolio of products and vendors that are dedicated to serving the industry. Innovative products and value-added solutions address our customers' hot water requirements. Relcon values operational reliability, energy efficiency, and reduced total cost of ownership for the life of equipment we represent.  Contact Relcon today for more information or to schedule an appointment.
MAIN OFFICE PHONE: (765) 825-2194
OR
EMAIL: info@relconinc.com